Showing the single result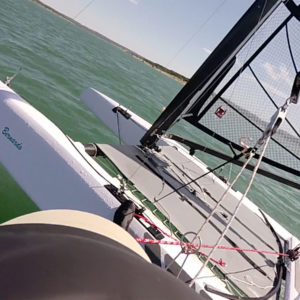 Stunt 9 – Texas, USA
S9 Foiling Catamaran 2016: 
Price $22,000, Rready to sail,
Location: Canyon Lake, Texas.
Length 
13'7", beam 7'9", 172 pounds or so, uni-rig, about 124 sq ft including the 24' 8" mast.
Includes board covers, boat cover, custom beach wheels, and a custom Trailex aluminum trailer.  
Carbon items: "T" rudders, main foils, mast, boom, and cross beams.
Easy to sail, durable, and terrific support from the designer/builder.
New price without custom aluminum trailer, beach wheels, or boat covers, but heck, everything's negotiable.
I've used this boat for almost a year for "buddy sailing" with my friends. 
There are now 9 S9s here in the US - time to sell this one!
Well-documented history, easy to foil, durable, with terrific support from the designer and builder. The boat is easy to rig, 172 pounds or so full up.
On Facebook: "Catamaran Stunt - S9".  
If you prefer to have a brand new one, please let me know, there are three here in Texas.
Call Charlie at 361-790-4579
Read more